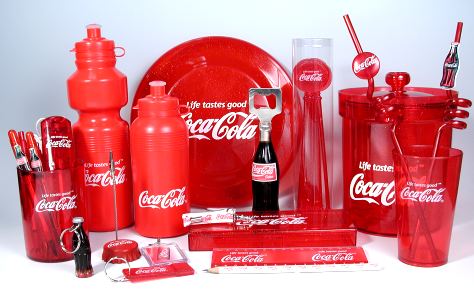 As the old saying goes, out of sight, out of mind, and in our business world today it is so true. The internet has taken away our global borders, so we now have customers not only on every corner, but on every website and form of social media. Therefore businesses must stand out and differentiate yourself from everyone else. Promotional Products allow you to make an impression, and get your brand EVERYWHERE, so you stand out over your competitors.
Here are a few reasons why Promotional Products should be part of every marketing campaign.
1.  Create Lasting Impression and Increase Brand Awareness
It's true, a good promotional product, is an ongoing reminder of your brand and logo. And if you have the right product choice, it will be used on a daily basis from your clients. They are also a great way to create customer loyalty and improved business relations.
A study from the Promotional Products Association International (PPAI), showed that 62% of customers will remember the name of a brand or company who gives them a promotional product.
You need to think of Promotional Items as a long term business card for your business. So make sure you include Logo, Website and even Phone Number.
2.  Valuable Advertising Space
A well-selected promotional product can become a permanent billboard of your brand. Remember most people are at work for 8 hours a day, and many sit in the one place, at their desk. If your current or prospective client is using your promotional product or promo gift in the office, you have secured the most valuable advertising space in the world – right on their office desk! So they will be constantly exposed to your brand, even when you are not trying.
3. Adding Perceived Value to a Gift
Most people have no idea of the cost of producing promotional products. They are more likely to over-estimate the cost as their assumptions are based on the perceived purchase cost of just one item, not many. As a marketer, you can take advantage of this perception by bulk-purchasing your promotional products for far less cost than their individual retail value, but the perceived value to the recipient will be far higher. This is particularly useful when providing premium promotional products, as the person who receives your promotional gift will assume that they have been given quite a good present and will want to hold onto it and use it.
4. Choose a Unique or Popular Product Tailored to Your Market
Every good marketer should know their customer, and understand what makes them tick. By doing this you can add a personal dimension to your general marketing message. A good promo product can help you localise and customise your brand message. By making clever-use of an interesting promo gift and adding an appealing logo or design you can increase the perceived value and desirability of the item to a particular audience. If your product is perceived as "cool', not only will people be more likely to keep it and use it, they may even collect it (if there is more than one variety). Big brands such as Coca Cola and Mc Donald's are experts in creating 'cool-collectibles'. Receiving an interesting, branded item can be a great way to create brand awareness, and add personal appeal for your market segment.
5. Get involved with your local community and charity groups
Sponsoring events and becoming involved with your local community and is a fantastic way to increase your brand recognition and a proven way to enhance positive consumer perceptions and market share. Hosting a charity BBQ, or providing the shirts for the local kids soccer team is a great way for a business to be seen as really caring about and supporting their community. The relatively simple gesture of sponsoring a local group, and adding your logo to signage or donating branded goods, can not only help you brand awareness, you help a good cause while you are at it. It's a win-win!
6. Corporate Gifts as an Employee Incentive
Branded Gifts can be given not only to customers but also to employees to thank them for good performance, or to motivate them to perform with the reward being a gift of some sort. Consider creating an awards program that best-suits your work-culture, employees and your corporate goals. There are many different types of products that have high -perceived value to your staff but are relatively low cost for you. This can help increase positivity and energy within the workplace, particularly in a sales environment where incentives are great motivators.
7. A New Way of Discounting
Instead of discounting your product, consider adding a free branded gift. The branded-gift item should be worth less to you than a proposed monetary discount, but should be perceived to be worth more to the customer. For instance, instead of discounting a carton of beer by $5 cash, you could consider giving away a customised key-ring bottle-opener with a perceived value of $5, but with just a cost of $1 for you to produce. This would enable you to maintain higher gross sales margins while also enhancing your brand value within the consumer's mind. The thrill of a free gift lets customers feel special through their purchase, and they believe they got a good deal. This feeds back into the overall positive feeling your customers get when they think of your brand again in the future.
8. Get your Customers to be Ambassadors
Whenever you see someone wearing an item of clothing such as a t-shirt or baseball cap with a logo on it, that person has become a personal mobile billboard for a brand. Some brands do this exceptionally well through use of interesting and cool designs that are enticing for people to wear, or by simply providing the customer with practicality, such as a free backpack to carry sports clothes when they join a new gym. If your customers wear or use your promotional products as part of their everyday life, you have succeeded in making that person become a public ambassador for your brand and a mobile advertising board wherever they go.
So as you can see, Promotional Products are essential to all Marketing Plans. When they work in conjunction with an effective marketing strategy they can add value to any campaign and make it memorable and effective in today's business environment. Working with professional promotional companies will help you work out the right mix for your business and so you can better plan so you get more for your advertising dollars.